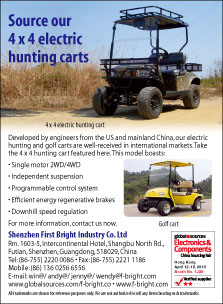 Share:




E-mail

Print

Bookmark
Shenzhen First Bright Industry Co., Ltd.

Follow me

2 Star China (mainland)

Credit Check - Supplier Credit Profile

provides impartial credit and vital business metrics for select suppliers on Global Sources Online. Using the Credit Check reports, buyers can easily compare key indicators and more efficiently manage risk. Suppliers with a Credit Check logo have agreed to allow this information to be reported to help buyers streamline the selection and due-diligence processes.

The supplier information below has been obtained from relevant government agencies in the supplier's country and is subjected to change without prior notice. Credit Check and verification procedures were conducted by Sinotrust, a third-party credit agency.
Read Disclaimer


Registered Address:
1520 Pengji Business Space Building Bagualing
Futian Dist. Shenzhen
Guangdong Province China

Incorporation Date:
August 03, 2007
Legal Form:
Limited liability company
Company Status:
Live
Registration Agency:
Shenzhen Municipal Administration for Industry and Commerce
Registration Number:
440301102748383
Authorized Capital:
RMB 1,000,000
Paid-Up Capital:
RMB 1,000,000
Legal Representatives:
ZHANG Zheng
Import & Export Licences Obtained:
Yes
Business Scope:
Technology development and sale of mechanical equipment, electronic products and instruments & meters; other domestic commerce and materials supply and marketing (excluding the franchised, specially-controlled and monopolized commodities); import and export (excluding those banned by laws, administrative regulations and the State Council; subject to permit when restricted by laws, administrative regulations and the State Council)
Business Permit Expiry:
August 03, 2017
Shareholders:
• LIANG Jianliang
• HUANG Guiqing
• ZHANG Zhongtai
• ZHANG Zheng




Want a more detailed Credit Report on this supplier?



Authenticated and verified by:
Sinotrust


On November 16, 2010

Contact Details




Shenzhen First Bright Industry Co., Ltd.
Rm 1603-5, International Hotel,
Shangbu North Road,
Futian District
Shenzhen
Guangdong
China 518029
Tel: (86 755) 22200086 (86 755) 22200986
Fax: (86 755) 22211186
Mobile: (86) 13602566556


Homepage Address
http://www.globalsources.com/f-bright.co
Other Homepage Address
www.f-bright.com


Chat with supplier using:

Key Contact:
Mr Winston, Zhang
Manager
Marketing DP.


Ms Wendy, Zhang
Saleswoman
Marketing DP.


1st Factory Address
Shenzhen First Bright Industry Co. Ltd
Xincheng Industrial District
Dongguan
Guangdong
China (mainland)
Tel: (86 755) 22200086 / (86 755) 82640722
Fax: (86 755) 22211186
Mobile: (86 755) 13602566556
Key Contact:
Mr Zhang, Winston
Manager
Marketing DP


Supplier and product information updated May 22, 2013.
Verified Business Registration Details
Registered Company: 深圳市先辉机电有限公司
Business Registration Number: 440301102748383
Company Registration Address: 深圳市福田区八卦鹏基商务时空大厦1520


* In some jurisdictions, company names and addresses are registered in Chinese only.